Affiliations
Eco-Friendly Affiliations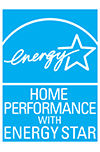 ecobeco is a participating contractor with the Home Performance with ENERGY STAR program. The goal of Home Performance with ENERGY STAR is to help homeowners improve the efficiency and comfort of their homes using a comprehensive, whole-house approach, while helping to protect the environment. The U.S. Department of Energy (DOE) began to administer the Home Performance with ENERGY STAR Program in October 2011 and works in conjunction with the U.S. Environmental Protection Agency (EPA) to support local sponsors. ecobeco works directly with local Home Performance with ENERGY STAR program sponsors to deliver comprehensive home retrofits in communities across Maryland.
---

The BPI GoldStar certification recognizes home performance contractors who commit to quality processes at the core of their operations. BPI GoldStar Contractors invest in strong internal quality control processes to constantly improve customer service, ensure high quality work from start to finish, and invest in systems that deliver customer focused results. The Building Performance Institute, Inc. (BPI) is the nation's premier standards development and credentialing organization for residential energy auditing and upgrade work.
---


Healthy Homes Specialists have a deep understanding of the connection between health and housing. Administered by the National Environmental Health Association and developed in partnership with the National Center for Healthy Housing, this certification recognizes professionals who take a holistic approach to identifying and resolving problems that threaten the health and well-being of residents. Specialists obtain this certification after extensive training.
---

Efficiency First is a nonprofit trade association dedicated to retrofitting America's homes, building the industry infrastructure to create jobs, and reducing energy consumption, carbon emissions, and our dependence on foreign oil. Efficiency First represents America's home performance workforce, ranging from energy auditors and raters to contractors who are the front line of our climate battle, embodied in green-collar jobs from weatherization to HVAC. ecobeco is a founding member of Efficiency First and Efficiency First Maryland.